Card View
The records in doogiePIM can be listed in a special formatted page called a Card View. The card view displays columns of records in a similar fashion to traditional business cards. The information in the card represents the details of the record. It can display the records's thumbnail image (if any), company name, telephone numbers, e-mail and addresses. When you choose a folder from the folder's navigator, the records located in that folder are shown in the card view.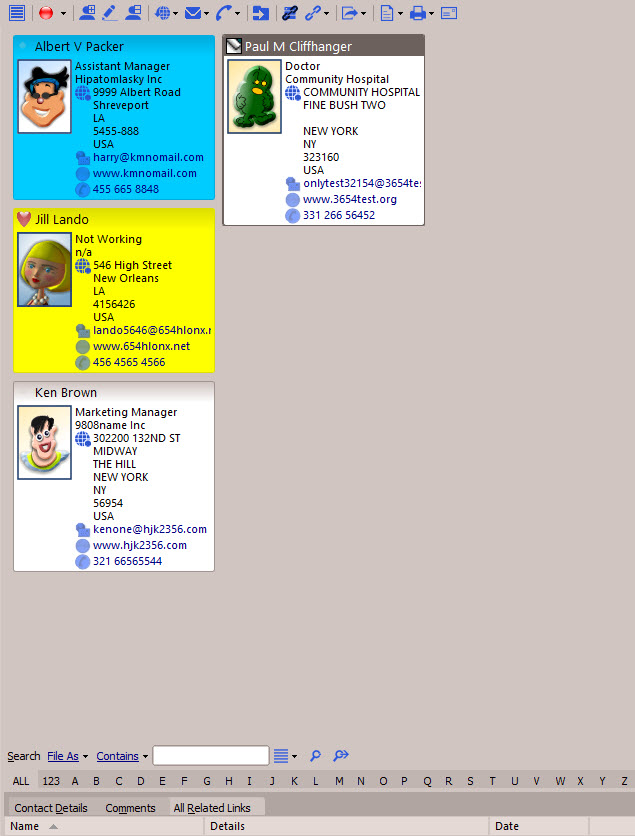 The card view is always sorted by the primary field, in the case of Contacts, it is the "File As" field.

To Select A Record In The Card View


Left click on the corresponding record in the card view, the item is highlighted when the whole card has one solid border colour. The colour depends on your system settings and visual style.
Customizing The Card View

To Resize Card View Columns



Left click and drag on the right hand border of a record card. Move you mouse left or right to visually size the cards as needed.



To Change The Card View Colours and Margins



NOTE: Not all sections have this option.



From the Main Menu choose "View/Customize Card View", or


Right Click on the Card View and choose from the context menu "Customize Card View"

When the customize window is displayed, choose the tab labeled "Card View Options". On this tab page change the colours and fields in accordance with your preferences.

Click on Apply to immediately see the effect of your preferences in the Card View.
Click on OK to save the changes or click on Cancel to cancel the changes.


Related Topics