Connector Line Properties
The connector lines are the visual lines that link Blocks. These connector lines can be drawn in different styles and colours with optional start and end arrows. The lines only show if the Block is connected. If a Block is not connected to another Block, then no connection line is drawn.

See Connecting Blocks for more information.

To Edit Line Properties

First select the connector line you want to edit. Do this by left clicking near the start or end point of a connection in the editor canvas.



Modify the values in the Line Properties tab, located on the bottom of the editor.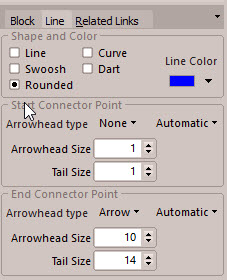 Related Topics
Connecting Blocks To Other Blocks