Customizing the Planner View
Typically, the planner can be overviewed by looking at the whole year. However, when you have many events in the grid, it can look congested.
To remove some of this congestion, you can change the view of the planner to see only certain parts of the year.
You may also wish to hide the Event Types to give more space on viewing the planner's events.
You also can change the colours of the Planner to suit your needs.

To Hide Or Show The Event Types Key Guide

Either:


Right click on the Planner Grid and choose "Show/Hide Event Types Key Guide", or


Double Click on the Event Type key guide on the bottom of the Planner Grid and unticked where it says "Show Event Types under the Planner" in the editor window, then click on OK.



To Show Different Parts Of The Year

Either:


Right click on the Planner Grid and choose or click menu item Planner Layout;




You can access the same functions by clicking on the Planner Toolbar icons accordingly.



To Change the Planner Year



Left click on top left of the planner Grid, the arrows to increase or decrease the year, or,


Place your edit cursor by left clicking in the Planner Grid and use your keyboard Cursor Keys (up, down, left, right) and Page Up or Page Down to move the cursor
through the year like a text editor moving the edit cursor. When the cursor moves past December it will advance the year. If it moves before January, it will decrease the year.



To Change The Planner Colours or Text of The Key Guide



From the main menu choose "Planner/Edit Planner Colours and Types", or


Click on the planner toolbar icon

, or


Left click on the Planner Grid and choose "Edit Planner Colours and Types".
With the editor window open click on the colour box next to the item you want to change. A colour selector is shown where you can choose a colour. You can place your edit cursor in the text box and type the text you want to appear.



See Managing Event Types for more information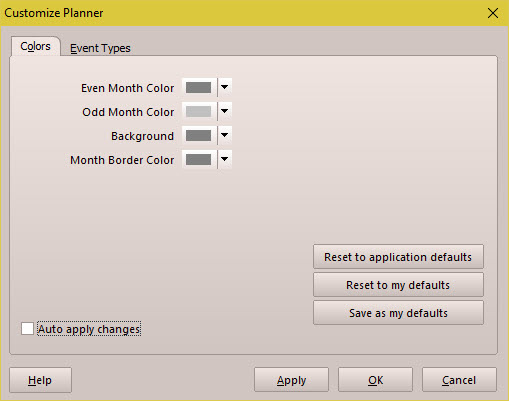 Click on OK to accept the changes or click on Cancel to cancel the changes. Click on Apply to see the changes immediately on the main planner window without leaving the edit window.


Related Topics