Managing Event Types
The "Event Types" is a colour key guide that represents the type of event. eg: Holidays are coloured in blue and Trade Shows are coloured in yellow. This enables you to quickly identify the type of event when it's shown in the Planner grid.


To Edit The Event Types

Either:


Click on the Planner Grid Toolbar icon "Edit Planner Colours and Types",

or


Right click on the Planner Grid and choose "Edit Planner Colours and Types" from the context menu.


With the Event Types Editor window open, edit the details as needed: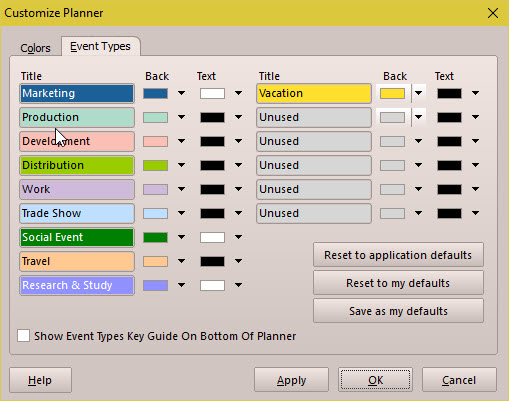 Event Types

Enter text to describe the event type in each of the coloured boxes, eg: "Vacation".




You can change the colour of the text or the background by right clicking on the input box you want to change then choose, "Background Colour" or "Font Colour". This will show the Windows colour selector. Choose a colour, then click on OK to accept it.

Show Event Types Key Guide On Bottom Of Planner

Tick this to show the colourful Event Types key guide under the Planner Grid.




To hide the Event Types key guide, uncheck this checkmark box.
When you are satisfied with the details you have entered, click on OK to save the details or click on Cancel to cancel any changes made.
Related Topics