Components
The doogiePIM application is made up of the following components and tools:
Main Window of doogiePIM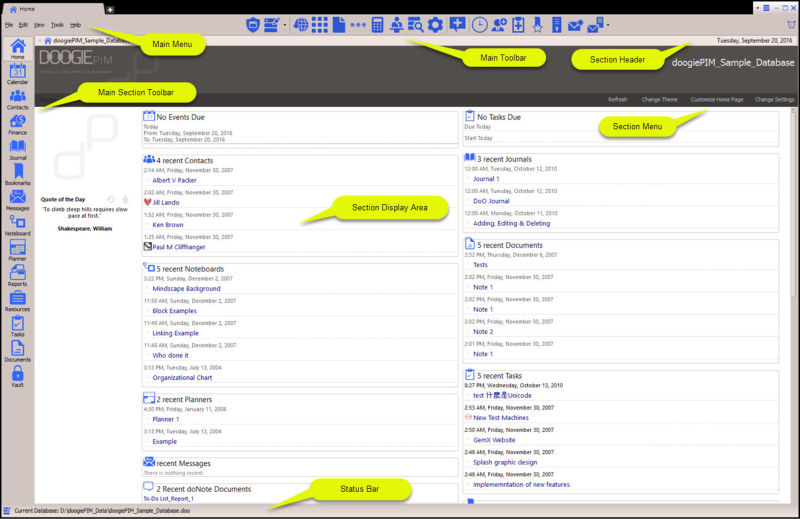 Some additional windows and components.


MiniBar - Desktop toolbar for quick access to application tools and sections.
Documents - Desktop notes and document rich text editor.
Expression Calculator - Simple or complex mathematics evaluator.
Archive-Encrypt/Decrypt Files - For protecting data sensitive files.
Messages - Email Client - Sending, receiving and managing emails, and RSS data feeds.
Documents - Documents Notes Editor - Rich Text editing.
Noteboard - Mind Mapping Editor - For brainstorming by connecting rich text blocks.
Files Explorer - for managing files with full preview.
Calendar - where you add events.
Contacts - where you manage your contacts.
Tasks - where you manage your tasks.
Journals - a useful daily diary.
Planner - where you manage a annual events.
Icon Library - where you can store your icons.
Scratchpad Phrases - for storing common snippets of plain text.
Archives Tool - for creating exe/zip backup archives of data folders.
Vault - For storing password and other sensitive data records.
Password Generator - Creates random passwords.
Bookmarks - URLs - For managing and storing websites and Internet bookmarks.
Database Search - Simple database search or powerful SQL query scripting.
Address and Label Mailing - For printing a mail-merge document to multiple contact records.
Finance - record financial transactions and for creating Spreadsheets.
Resources - Store and manage important assets like stock, staff and other resources that are important to you.

Main Toolbar Configuration



Adding, Removing, and adjusting Tool Icons on the Main Toolbar

Right click on toolbar and choose "Customize Toolbar..."

You can check or uncheck any of the tool icons as you wish. You can also change the icon sizes and sort order of them on the entire toolbar.
Choose to keep the changes identical on all sections or customize it on a per section page as desired.
To change the order of icons, just drag them or use the "Move Down" or "Move Up" buttons, into whatever order you prefer.



Related Topics