Introduction
doogiePIM is a full scale multi-dimensional personal information manager for your business and private use. doogiePIM offers you a solution of storing and organizing your daily activities.
doogiePIM enables you to work with Sections of data rather than a traditional full tree approach. The tree approach is fine when you are managing files or you're concentrated on a section. However, when it comes to managing events, to-dos, contacts and documents that affect your daily life, this can be mind cluttering when displayed all in one tree view. doogiePIM allows you to Link an item to another item. For example, you may add a note for a contact. Or maybe a scheduled task for a finance transaction.
doogiePIM has separated each section, so you navigate your focus point accordingly. It is flexible enough to keep your current focus wherever you wish it to be.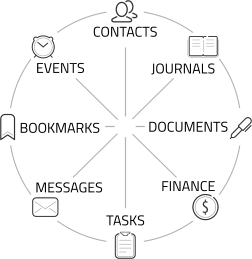 When your current work requires focusing on your Contacts, then you go to the Contacts Section where everything else will branch out but keeping your Contacts as your main focus point. For example: You have access to linked Documents, Messages, Tasks, Journals, Events and other related items, without leaving the Contacts section. This is the same with Tasks or any of the other sections.
At first, you may find the inter-linking features of doogiePIM strange, but as you use and understand it's power and benefits, you will come to appreciate it.

See Multidimensional Linking for more information
Related Topics