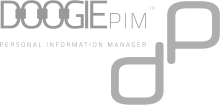 Thank you for choosing doogiePIM from BiteSpire


I hope you will enjoy using doogiePIM and will benefit from it as I intended to help assist you in organizing your busy schedule. It is hoped, doogiePIM will become your preferred and loved 'Personal Information Manager'.
Go ahead and explore it to see what makes doogiePIM so special.
I would suggest you begin with the Introduction section and familiarize yourself with the various Components of doogiePIM. Then the best thing to do is to get onto the software and have a play around with it. You will probably find you won't need to use this Help.
I always listen and take into account all viable suggestions and feedback. If you think of a useful feature or improvement you would like implemented and would benefit other doogiePIM users, then please let me know.
Happy Organizing... and let's GET STARTED
Chris
Creator and developer of doogiePIM
(doogiePIM Help - Version: 2019.02)