Thesaurus
doogiePIM comes with the English Roget's Thesaurus in it's default installation.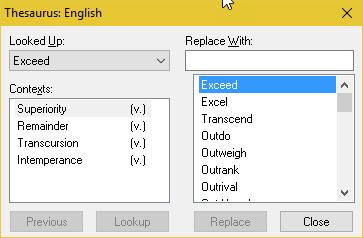 To Lookup A Word

Position your edit cursor within the word you want to lookup, then do any of the following:



From the main menu, select "Edit/Lookup word in Thesaurus", or


Right-click to bring up the context menu and choose "Spelling/Lookup word in Thesaurus", or


Click on the toolbar icon



If there is a word that is found in the Thesaurus, then you will see a listing of related entries. Simply choose the word you want so it appears in the "Replace with" edit box, then press [Replace] or press [Close] to close the Thesaurus.


Related Topics